Ready to Return Your Lease? BMW of Monrovia Can Help
Can you believe it's already time to start thinking about what you'll be driving next? At BMW of Monrovia, servnig Los Angeles, we hope you have enjoyed your BMW experience as we have enjoyed having you as part of the BMW of Monrovia family.
As you approach your end-of-lease, consider the following exciting options available to you:
1. Select your next BMW
We at BMW of Monrovia offer a great selection of New BMW and Certified Pre-owned BMWs. As our Valued Guest I'll make sure you're able to take advantage of the many special programs that we offer.
2. Keep your current BMW
You can also keep your current BMW by arranging to Purchase your current vehicle, I can help you through the process and provide you with excellent auto loan terms.
3. Turn in your current BMW
If you do decide to return your lease it's just as easy as a phone call away.
Pre-inspection
To help you prepare in turning in your current BMW lease, I would like to invite you to come into BMW of Monrovia for a Pre-inspection of your vehicle 3 months prior to lease-end. In addition to saving you time and money at lease-end, the pre-inspection takes only a few moments, and is absolutely free of charge.
This pre-inspection offers you several important benefits:
By pre-inspecting your vehicle now, you'll save time on the day you turn it in.
If there are unacceptable damages you'll be informed right away, with ample time to have them repaired.
A pre-inspection virtually eliminates potentially costly "surprises," so that you'll know exactly what to expect when you do turn in your vehicle.
I will personally guide you through this process. Please contact my direct line at (626) 358-4269 or email me at lu.zhou@bmwofmonrovia.com to further discuss your end-of-lease options and schedule an appointment.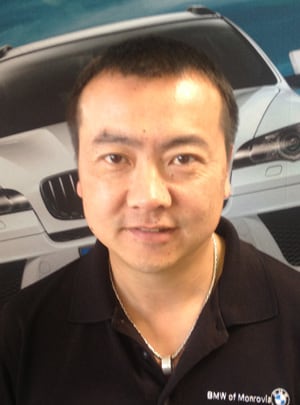 George Zhou

Lease Portfolio/Fleet Manager
Phone: (626) 358-4269
lu.zhou@bmwofmonrovia.com